We're Getting Mutants in the MCU - The Loop
Play Sound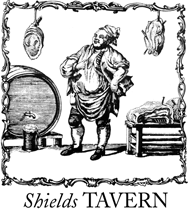 The building that later became Shields Tavern opened in 1705 and operated under various proprietors and names including Morot's Ordinary. It was owned by James Shields from 1745 - 1750 (year of his death). Today, it is a restaurant in Colonial Williamsburg and is located on Duke of Gloucester Street. The tavern can seat approximately 250 guests.
History
[
]
The building was owned by John Marot and under the name Morot's Ordinary for a number of years, and after Morot's death it was passed to his daughter, Anne Marot Ingles Shields. When his daughter married James Shields, the property became Shields Tavern until his death in 1750. A year after his death, the widow of James Shields married Henry Wetherburn who owned another tavern on Duke of Gloucester Street. Wetherburn rented the tavern out to Daniel Fischer for six months and he operated a coffeehouse at the site, but was run out of town for being a con man. The tavern burned down in the mid-1800s, and the history after the fire is unknown. The property was an empty lot when Colonial Williamsburg began to be reconstructed as a historic site.
Reconstruction
[
]
The site was reconstructed as a tavern in 1989 based on inventories written at the time of James Shields death. Shields Tavern is considered to be one of the 88 original buildings in Colonial Williamsburg because one room of the wine cellar (East Room) is original, while the rest of the building is reconstructed.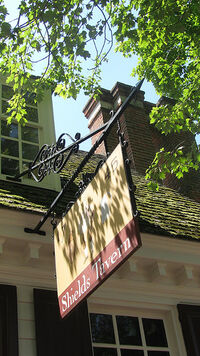 Rooms
[
]
The Hall - This is where common people gathered to eat, drink, and sleep.
Lower Room - This was rented out to some people following the death of James Shields.
Parlor - Special guests would dine in the Parlor and eat finer foods than the common meal served in the Hall.
Kitchen - This was the kitchen!
Chamber - Where the Shields family slept.
The Overs/Second Floor - Here, guests could rent beds either long-term or for a short stay. James Shields limited the number of guests in a single bed to two. Many other taverns would simply allow as many men that would pay to sleep in the same bed.
The Wine Cellar - This is comprised of two rooms, East Room and West Room. East Room is original and West Room was constructed for the purposes of Colonial Williamsburg.
FAQ from guests
[
]
Main article: FAQ in Colonial Williamsburg
What are those holes in the building next door? Those are called putlocks, and are used to create scaffolding when the building is being built or needs repair.
Why is there moss on the roof? Why don't you clean it off? Because that is the north side of the building. The moss probably would've been cleaned off in the 18th century because shingles were made of wood. Our shingles are specially made for Colonial Williamsburg to look like wood shingles, but are actually made of sturdier materials including concrete.
See Also
[
]
External Links
[
]